Subayo Foundation in the News
Nomtsoub School in Tsumeb, Namibia gets fundng for school uniforms, books and school supplies from Subayo Foundation January 2017. 
Subayo Preparing to make an impact on Rural Primary School Education: 
UNIVERSITY of Barotseland vice-chancellor Dr Muyoba Macwani says the government has neglected rural students. Speaking in an interview after the official announcement of Subayo Foundation's plans to construct eight teachers' houses at Namitome Primary School in Mongu over the weekend, Dr Macwani said rural students needed full government support if they were to be responsible citizens.
Article on Subayo Golden Eagles Girls Soccer Team: 
Shaft FM Online: Coach Mambo A Part of Subayo Golden Eagles Success
Yakubu Mambo Sherrif, also known as Coach Mambo, assistant coach for Ashantigold Sporting Club in Obuasi and the Physical Educatoin tutor at Obuasi Senior High Technical School and also the  Chief Coach for the Subayo Golden Eagles club in Obuasi has been a key contributor to the success of Subayo Golden ladies in Obuasi. - See the Full Article!
The Post Newspapers Zambia - Suba's dream of empowering women
FOR many Africans, the United States (US) is the land of opportunities but in thisl article, a Zambian who has lived in that country for over two decades talks about the demeaning stereotypes that are targeted against African women living and working in the US.
Mbumwae Suba-Smith is the president and founder of Subayo Foundation; a community-based organisation that focuses on the issues of women and children and has been living in New York for the last 25 years, hoping to get the best for her disabled daughter. The Subayo Foundation seeks to empower the women from Ghana and Zambia, through business education and training, literacy programmes and AIDS and prenatal health education. The work of the Foundation, whose vision is to elevate women's standards of living in the Accra, Volta and Ashanti Regions in Ghana as well as in Lusaka and the western region of Zambia, is designed to complement the work of community organisations, government, ministries and development agencies that aim to improve the standards of living in the communities as a whole. But who is Mbumwae Suba-Smith? Read More
Ghanaian Chronicle - Subayo Foundation assists women in Obuasi with micro loans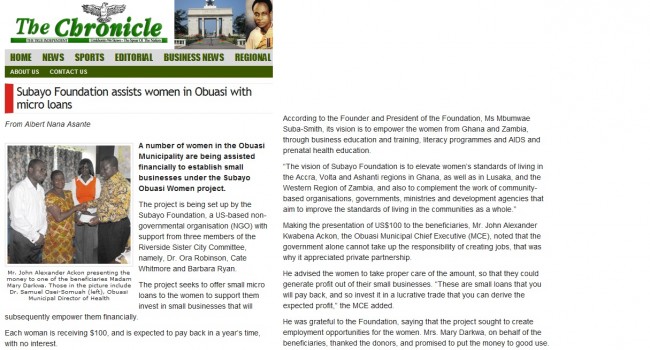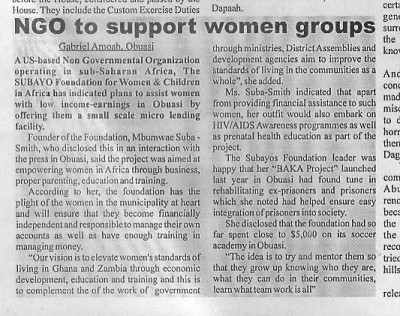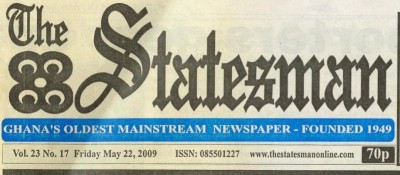 "When a discouraged Suba found herself visiting Ghana, West Africa, she felt pressed to reach out to women in the Accra, Denu, Volta and Ashanti regions. Out of this need, Suba founded the Subayo Foundation, an organization dedicated to empowering women and children.
      Over the years, the Subayo Foundation has grown to become more than an AIDS awareness organization. The foundation has many educational outreaches that attempt to curb polygamy, teenage pregnancy, domestic violence and poverty."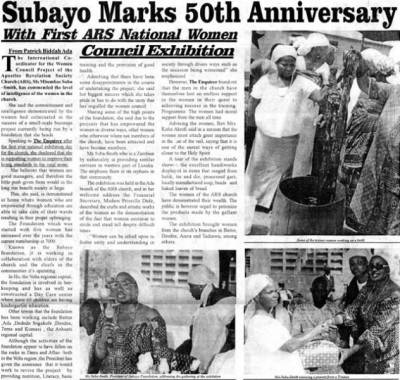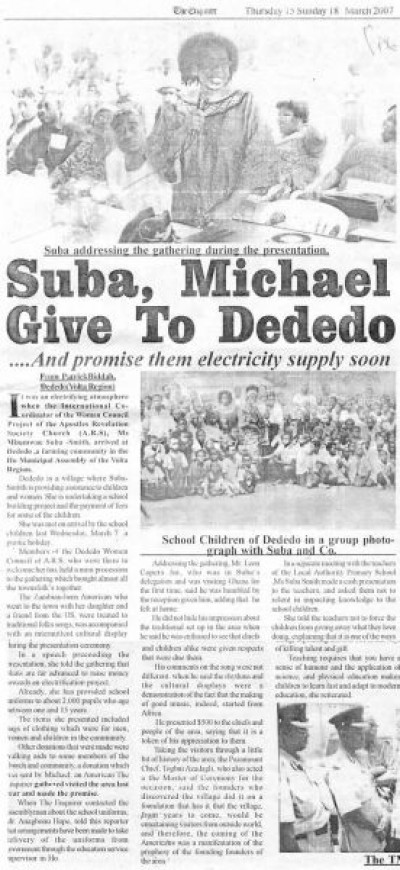 Newsletter of the Preston Ridge Baptist Church
In their March 2006 Newsletter the Preston Ridge Baptist Church honored the Subayo Foundation:
"Her aunt, Mrs. Mbumwae Suba-Smith, started the Suba Foundation for Women and Children.  This foundation helps to elevate the standards of living for women and children by giving them the knowledge and skills to survive and prosper.  Education is the key, no matter what profession, we all need to know how to read and write.  As a result of this divine appointment, the Suba Foundation donated BOOKS to Every Orphan's Hope for our children!!!"