Breaking News! The Subayo Golden Eagles Girls Soccer Team now has a Team Bus!
I am very proud to announce the purchase and donation of a bus for our Subayo Golden Eagles Girls Soccer Team, Obuasi, Ghana. Subayo supporters and I have worked hard for two years to raise the funds for this vehicle. The coach and executives of the team had asked me for years to obtain reliable and safe transportation for the team. They, as I, have considered a team bus vital to the present and future success of the Golden Eagles.
Now, thanks to all who contributed time, talent, and funds to the cause, our aim is fulfilled! With the procurement of this bus, team members can be assured of safe transport to and from practice, and to and from games. That has not been a given in the past. The bus also gives the team the capacity to participate in regional and national leagues around Ghana, allowing them to showcase their talent as soccer players, and as young women on the rise. Moreover, the bus furthers our mission to empower these young women.
Many people and outside organizations contributed this cause, and I am happy to name a few of our key contributors. First, let me thank our friends in Riverside, California who comprise the Obuasi Sister City Committee for their steadfast good will and financial support. OSCC held at least two fund raisers especially for the purchase of this bus, and raised substantial amounts toward the purchase. I would like to especially thank my American sister, Cate "Monde" Whitmore for leading the charge on the OBSCC, and the committee members who backed her in the effort.
Let me also thank the following donors by name: Dr. Leslie Bruce-Lyle, Lisa Bruce-Lyle, Edward S. Moore Family Foundation (Through Ana Singh & Louisa Gilbert), Her Excellency Namakau Anne Mutelo, Sheelagh McNeill (for continued support by running the NYC Marathons for several years), David Vassar, , Gabby Vanti, Elliot Duncan, Alexis Johnson, Gregory Schwedock, Christopher Rohner, Sven Buchholz, Julie Nsanzurwimo, Adjoa Parker & Musonda Sambo. Let me also mention especially Tony Williams, Subayo board advisor, who contributed his time and talent to this effort.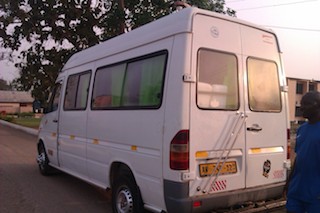 Victoria Owusu, national manager for Subayo in Ghana, team CEO Mensah and Coach Mambo searched vigorously for this bus and we should also acknowledge their contribution for the search.
Finally, let me say that the stability of our team has been assured by this purchase.  We can now provide safe, reliable transportation for our girls, who in the past often traversed dangerous areas to make practice, and games. The cost of travel will be reduced for the team, coaches, and managers, since they will all travel via one vehicle to and from games. And, finally, the team can carry all our food supplies, equipment and other necessities for the games.
It's a great day! Thanks you all! 
Ms. Mbumwae Suba-Smith
President and Founder
Subayo Foundation
The Riverside Sister City for Obuasi Hosts Play "Farragut North" to Raise Funds for Subayo Golden Eagles: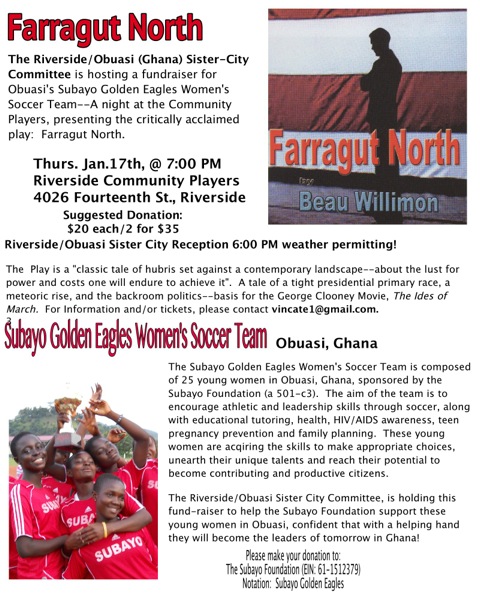 And the Riverside Obuasi Sister City committee with Subayo Golden Eagles: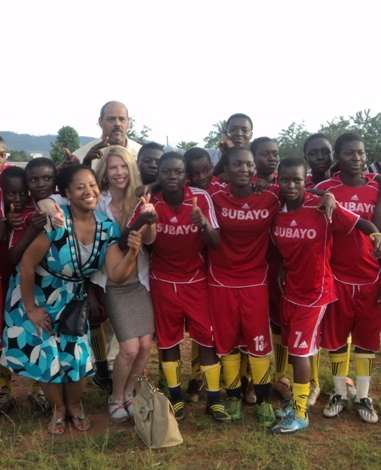 Summary of Recent Events:
In January 2011 we appointed a new manager for the Subayo Golden Eagles Girls Soccer Team and made other changes to encourage the team's development.
During the year they played several games and strengthened their team spirit. In the Easter holidays there was a party for the team and a motivational speech by the Mayor of Obuasi.
Since 2009 Subayo has sponsored 22 women through the Micro Finance Project. When they repay their loans we present them with Certificates of Accomplishment. Some of these women now have their own bank accounts to help run their businesses.
We have also arranged for these women to take advantage of Ghana's "Mobile Banking" system. A bank official comes to collect money from the women each day and takes it to the bank to pay into their accounts, so that they do not have to make a journey to the bank themselves.
Through Micro Finance projects some women have learned to read and write. This benefits them in many aspects of their lives, and in particular they can help their children with homework and also with buying school uniforms or other school supplies.
In 2011 and again in 2012 we sponsored a Shaft AM Radio Station Christmas Party for children in the community where our soccer team is based.
In 2013 the President of Subayo was invited by the Mayor of Riverside, CA through their Sister City program to go to Ghana on an official visit. While there the Riverside delegation donated $900 to the team when they played a friendly match to honor the Mayor from Riverside.
In January 2013 the Riverside Sister City Committee also organized a performance of the play Farragut North by the Riverside Community Players in support of the Subayo Foundation Golden Eagles Girls Soccer Team. This raised $1850, which was donated to the Subayo Foundation.
The International Relations Committee of Riverside CA also donated $200 to Subayo in 2012.
Subayo Foundation has raised money by taking part in the AIDSWALK New York each year since 2010, all of which has been used to support various projects in Africa. In 2013 we had one very young man, Elliot, who raised $500 for Subayo Foundation through AIDSWALK New York.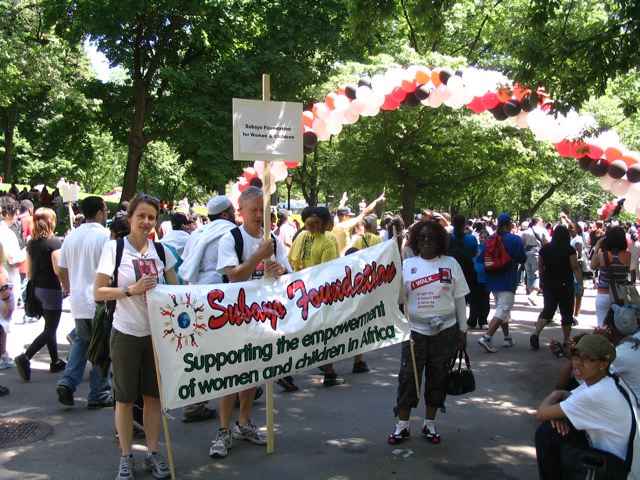 The Edward S. Moore Family Foundation has given grants to Subayo Foundation for the past four years. They gave $1000 each year in 2009 and 2010. In 2011 and again 2012 they very generously donated $3000.
In Namitome in the Western area of Zambia, Subayo is in the process of building two houses for female teachers at a local school. We are also raising money for two other buildings. One will be a shelter in which school children can eat their lunches, and the other will be a community room for women to hold meetings and community events. Fundraising for this latest project is on-going.  (See the follwing entry)
Subayo Leads Construction of Housing for Women Teaching in Namitome Community
In the Western Region of Zambia, the Namitome Community's school, couldn't provide housing for their female teachers.  We are now in the process of building housing for the hardworking women in the faculty.  The community's also stepped in to show their support of the teachers and is hard at work helping in the construction!  See some of the action below: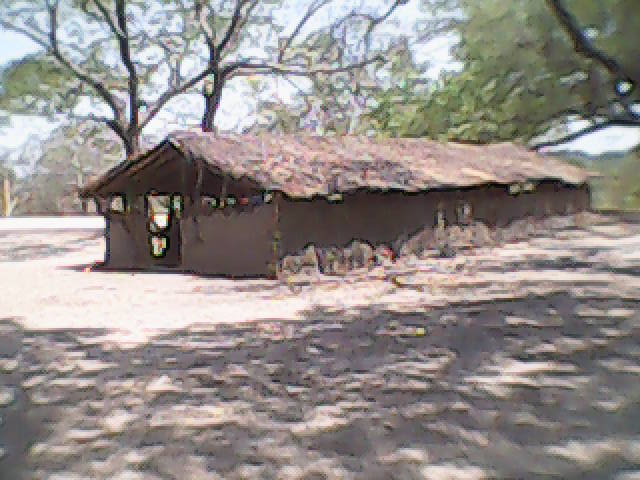 Sheelagh Runs 2013 NYC Marathon Raising Funds for Subayo!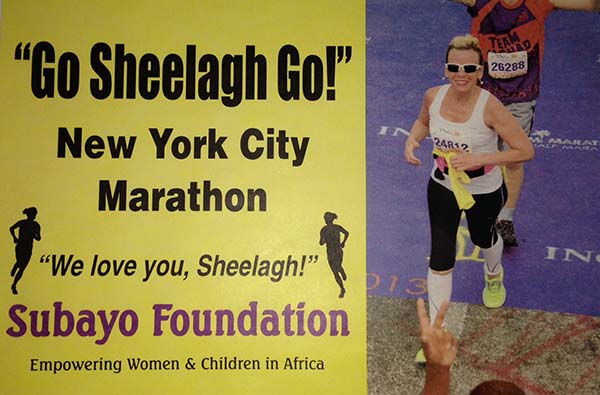 Short Interview: Mbumwae Suba-Smith about the participation of Subayo Foundation at the AIDS WALK 2010 in New York
June, 2009 - American International Marketing Services (AIMS) organizes business forum in Riverside California
Subayo, ASK Ghana LLC and Gathers Strategies Inc. and La Sierra University sponsored the Business Development Forum to enchance the business relations of the Sister City Project between Riverside and Obuasi, Ghana. The event was attended by Mbumwae and Sven Buchholz. V. Davis and family donate an industrial loom to Subayo through Riverside Sister City Committee.
November, 2008 - NYC Marathon
Sheelagh McNeill ran her third New York City marathon in support of Subayo. Her Friends and colleagues donated to Subayo because of her strides!
September, 2008 - Twelve year old donates her birthday presents to Subayo
Gabriella Fioravanti friend of Subayo asked her friends to contribute to subayo instead of recieving normal presents at her birthday party. Twelve of Gabriella's friends gave donations rather than traditional presents.
July - August, 2008 - Mbumwae, Greg, and Patrick tour Ghana locations
In Obuasi they Launched the Suabyo Golden Eagles Soccer Team and the Baka Project. They also participated in a radio interview on Ghana's Shaft 98.1 from Obuasi.
In Dededo, the three visited school children and the women's council along with community leaders and chiefs.
The Schwedock family donated an industrial oven to the women's council of Tema, see photo. In addition to providing additional funds to the women's council of Ada for their Tye and Dye project.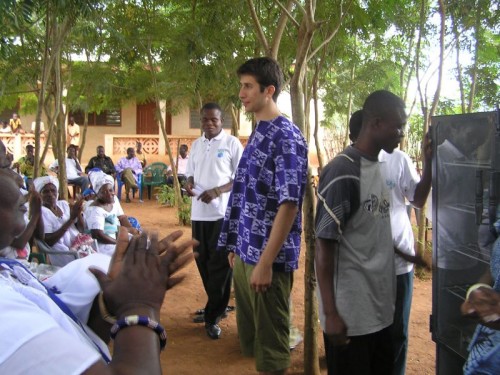 July 14 - 18, 2008 - Greg vists school in Wasa Akropong
Mbumwae met with the Mayor of Obuasi and addressed the assembly regarding the Riverside, California community and Obuasi Sister City Project.
July 10, 2008 - Subayo Fundraiser Party
All gathered for good company, good music and a good cause at Uncle Ming's in New York City's "Alphabet City." Performances by Lu Yang Yang, Greg Schwedock and Sean Brown.
April 14, 2008 - Mbumwae Speaks at Hamilton College
Mbumwae toured the college, had a public interview with Gregory Schwedock and spoke with students to raise awareness of the the Subayo Foundation. Click here to read more...
March, 2008 - Obuasi and Wasa Visit
Mbumwae met with the Mayor of Obuasi, Ghana and addressed the assembly regarding the Riverside, California community and Obuasi Sister City Project.
Mbumwae also visited Wasa Akropong's District Superintendant and donated books and toys to the area's daycare center.
Febuary 28th - March 11, 2007 - Mbumwae's Latest Trip
 In honor of Ghana's 50th anniversary all the remote villages in which the Subayo Foundation has been active sent representatives to make the often long journey to Ada.  Approximately 2,000 people from the 15 villages attended the convention.  Every village had a tent to display a sample of the products they have been making with the help of the Subayo Foundation.  A small sampling of the diverse products at the event were tie dye fabrics made with bee's wax from Tadzawu; pasta and pancakes made from cassava powder from Dzodze; red chili peppers from Bator and sugar bread from Ada.  It was a truly marvelous showcase for the Subayo Foundation.  The whole event exhibited how much progress the people of the many villages have made with the helping hand of the Foundation.  Tema was awarded with $500 for having the best tie dye fabrics so they can continue to expand their business and Ada was awarded $500 for hosting the event.  Significant press was attracted to the occasion, in the Ghanaian newspapers ofThe Enquirer and The Chronicle, which may be viewed at our website. As The Enquirer pointed out it is remarkable how far the Foundation has come since it started with 5 women in Denu and has now reached over 7,000 women all over Ghana.

... Mbumwae now has her sights set on raising enough funds to buy poles for the electric lines to get power to the Dededo village. The Ghana government has agreed to string and power the lines if the poles are provided.  The Dededo village is one of the poorest and largest villages that the Subayo Foundation works with.  With a population of approximately 2,500, it has about four children to every adult and its closest medical clinic is 26 miles away.  On her latest trip, Mbumwae presented 4medical equipment such as walkers, crutches and canes as well as clothing for all ages, donated by Michael Tshols.   Leon Capers Jr. who traveled with Mbumwae also donated $500 to the people of Dededo.  By supplying electricity to Dededo Mbumwae hopes to attract businesses to invest in the village as well as dramatically increase the overall quality of life of inhabitants.  She would also like to gratefully thank all of the people who helped with their time and money to support her cause. 
March 6, 1957 - 2007 - GHANA'S 50th!
Ghana is currently celebrating its 50th anniversary in 2007.  This milestone is a first for an African nation south of the Sahara.
Learn more about the celebration of independence on Ghanas official website.
December 18, 2006 - First Board Of Directors Meeting
The Board with the assistance of the Subayo foundation's pro bono lawyers Noah Waisberg and Todd Chandler worked together in efforts to establish Subayo as a Not For Profit Organization with a 501C3 status. This will make it possible to contribute tax deductible donations to the foundation's brand new bank account with foundation's IRS Tax ID# 61-1512379. Soon Donations are now possible online via paypal. Subayo has set its current sights on raising enough money to purchase electric poles for a small village in Dededo. Very close to this village is a dam that powers much of the nation. However power lines pass right by the village. In negotiation with the Ghana government, Subayo has convinced the state to provide power to the village if the poles are provided to lay the electric lines. The people of the village are only asking for simple necessities of modern life such as clean water and electricity.
The Board also nominated the following positions:
Secretary: Chris Rohner
Treasurer: David Vassar
President: Mbumwae Suba
November 5, 2006 - NYC Marathon
Sheelagh McNeill ran the New York City marathon representing Subayo! Thank you for your generous support: