Subayo Foundation is proud to announce its newest Patron:
Her Excellency, Inonge Wina
Vice President, the Republic of Zambia
Women's Rights Super Star
Members and supporters of Subayo foundation, we have the high honor and distinct privilege of introducing our newest Patron, Her Excellency, Inonge Wina, Vice President of the Republic of Zambia.  Vice President Wina is the first woman to hold this high office, and the first member of the Lozi People to be named to the post.  She only recently entered Zambian politics (2011), to quickly become the holder of her history-making position.  The addition of Her Excellency to Subayo Foundation Advisory Board, and as a Patron of our humble organization brings us a very high honor, and adds a powerful voice to our organization on behalf of women and girls in Zambia.  Vice President is one of the strongest female role models we could hope to gain for all of our work in Africa.  She will, without doubt, be an invaluable asset in our mission of empowering women and girls in Zambia and Ghana.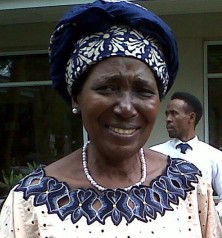 Since entering office, Ms. Wina has turned her attention to the long neglected Western Province, where she seeks the means to significantly enhance medical delivery and economic development in the region.  She further intends to bring the needs of women and children to the forefront of her efforts as Vice President for all Zambia.
Ms. Wina has served on a number of NGO boards, where she has been instrumental in promoting her women's rights are human rights agenda, resulting in the Zambian government's establishment of the Victim Support Unit under the Zambia Police Service.  As a committed advocate for women's rights, Wina was elected National Chairperson of the NGO Coordinating Council of Zambia (NGOCC) in 1996. In 2000, Wina led the women's movement in the Red Ribbon Campaign in defense of the Zambian Constitution.
Ms. Wina a Member of Parliament of Nalolo, Western Province.  She was appointed National Chairperson for the ruling Patriotic Front (PF).  Inonge Wina was appointed the Minister of Chiefs and Traditional Affairs before being moved to be Minister of Gender and Child Development by late President Micheal Sata.  On January 26, 2015, newly elected President Edgar Lungu appointed Wina as Vice President of the Republic of Zambia.
We offer her our warmest welcome, and look forward to working with her to achieve our mutual goals on behalf of women and girls in Zambia, and throughout Africa.